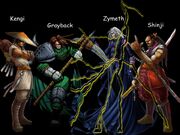 Four Clans in Battle Realms
Dragon Clan: The Path of Righteousness
The ancient Dragon Clan prizes honor above everything else. They are Yang followers with honor as their symbol. Their warriors seek to become one with their weapons. Due to their devotion to honor, the Dragon deity assists them during times of great peril.
Serpent Clan: The Way of the Wicked
A derivative of the Dragon Clan, the Serpent Clan have forgotten their honorable ways and have resorted to thievery and deceit. Serpent clansmen are Yin followers. Unlike their Dragon ancestors, they do not scorn the use of firearms; instead they have learned to employ its use in many of their fighting arts. Even though the Dragon Clan knew how to use gunpowder, it was the Serpent Clan which uncovered its secrets. Stealthy, flexible, and cunning, the Serpent Clan uses a plethora of battlegears to disable their opponents and produce an advantage.
Wolf Clan: The Spirit of Might
The wild Wolf Clan prizes freedom above all else. They are Yang followers with freedom as their symbol. Unlike the other clans, they have no cavalry, nor do they have healers. They feed the horses to their wolves, which accompany them and partake in their battles. Their wounds knit surprisingly fast, even more so with the use of herbs. They know some magic, and much of what they do know is tied to nature. Wolf Clansmen are down to earth, hardworking people, and take a delight in nature. They are also known for their use of shale as their armor.
Lotus Clan: The Essence of Darkness
The Lotus Clan is the remnant of a Yang Clan of old, but it is now a Yin Clan. Lotus clansmen are Yin followers with corruption as their symbol. They follow the Forbidden Path, which focuses on death and decay. Their religion centralizes around three ancient brothers, now long gone, who tended the Tree of Corruption. The Lotus Clan's strategy is based on their immense understanding of magic, which translates to unit abilities and Battle Gear.
Community content is available under
CC-BY-SA
unless otherwise noted.