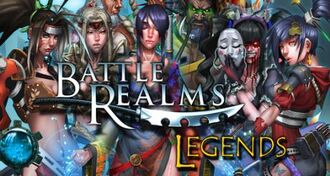 Battle Realms Legends, previously known as Battle Realms Genesis or internally as BRG, is the third project released by Liquid Entertainment in the Battle Realms franchise, the other two being Battle Realms, and Battle Realms: Winter of the Wolf. It is said to be made in form of a RPG TCG game, but Ed Del Castillo, Liquid Entertainment's Executive President, reiterated that this is not the only project to be undertaken by the company in expanding the game franchise. Characterizing his goal for the TCG, Ed said it to be "a portfolio piece for the world".
The name was changed from Battle Realms Genesis because "We think it's a much better name and hits more to the core of our Zen Master focussed gameplay." according to Del Castillo.
After a failed funding campaign on the global crowdfunding platform Kickstarter and after receiving a bad reception by the gaming community the project was finally put on hold.

"Unfortunately, the game has been put on hold for the moment. It's a great game that should get made, but the fans didn't come out for it in big enough quantities so it's future is uncertain at the moment."
— Ed Del Castillo (Liquid Entertainment's Founder, Executive President, and Chief Creative Officer) regarding Battle Realms Legends.
Content
According to the updates of Ed Del Castillo on Liquid Entertainment's website, it will be a card game showcasing clans, heroes and the land of the Battle Realms Universe expanding the content we all ready had been given from previous titles. The following are some of the announced content to be featured on Battle Realms Legends.
Unannounced, but probably same unit training process. Retained old clans (Dragon, Serpent, Wolf and Lotus), but improved design. New insights in the history and concept of the Battle Realms Universe. New clans, units, places and heroes. Some of the released previews of assorted units showcases new concepts like elves and demons. Therefore the concepts may remind you of other RTS games, MMORPG or other online games, such as World of Warcraft which was all ready compared to Battle Realms franchise by the gaming community.
The new title's purpose, according to Liquid Entertainment's Executive President announcement, was to make Battle Realms known and to attract new public while at the same time introducing and expanding new content on the game series lore.