Overview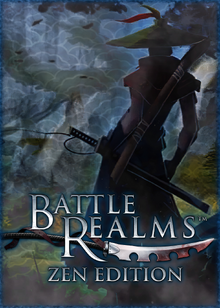 Battle Realms: Zen Edition is a digital release of Battle Realms & Battle Realms: Winter Of The Wolf published on Steam (Early Access) by Ed Del Castillo on December 3, 2019. The return of Battle Realms was first announced by KoMiKoZa on November 14, 2019 on the BR Facebook page.
Features
Unlike the 2013 re-release of Battle Realms + Winter Of The Wolf on GOG , Zen Edition actually features improvements, bugfixes and online multiplayer support. Most notable features of the release would be:
Steam Early Access & a plan to move the release forward possibly reviving the franchise.
Dual Monitor support.
Updated screen resolutions (2 resolutions have been added: 1280x1024 and 1920x1080, more to come).
Fixed critical gameplay bugs (see Patchnote 1.55 ).
Online Multiplayer via Steam (severly limited as of March, 2020).
Steam Early Access
"We like to think of games and game development as services that grow and evolve with the involvement of customers and the community. There have been a number of prominent titles that have embraced this model of development recently and found a lot of value in the process. We like to support and encourage developers who want to ship early, involve customers, and build lasting relationships that help everyone make better games."
— Steam
Ed Del Castillo's Statement on Early Access
"For us, Early Access is all about reengaging the Battle Realms player and opening a direct dialog between them and us. We want to recreate the vibrant Battle Realms community of the past and provide the kind of direct response to questions and problems that arise during high intensity gameplay.

Battle Realms isn't finished, and we intended it that way. Early Access lets us put the majority of the game on Steam and then accept the feedback from players to polish and hone the game to perfection.

We are committed to making the best 1.0 possible and we want to bring the fans in from the very beginning to make the game that they want as much as we do."
— Ed Del Castillo
Approximately how long will this game be in Early Access?
"I'm hoping that it will be less than a year, but it is hard to tell right now. I want everything to work well and most, if not all bugs that we find, fixed."
— Ed Del Castillo
How is the full version planned to differ from the Early Access version?
"Currently we are only supporting English. I'd like to be supporting all the languages BR had in its final release, along with any bugs or exploits we find removed from play.

Beyond that we are hoping for a deeper integration with Steam - including achievements and the rest."
— Ed Del Castillo
What is the current state of the Early Access version?
"Battle Realms Early Access is almost as feature complete as the 2001 release of the game.

All resourcing is in, all training, upgrading, combat, FX, and environmental systems. The game should be fully playable as a single player game and up to 2v2 multiplayer.

We are sorting out some minimap issues associated with interactions between the Steam Overlay and the game, and we are looking into ways of incorporating localizations in Spanish, French, Italian, and German. Originally these were all different versions with different builds but we are looking at what it would take to put it all into one version of the game."
— Ed Del Castillo
Will the game be priced differently during and after Early Access?
"Yes. For now the game will be priced at roughly half of what we intend to price it at once we reach 1.0."
— Ed Del Castillo
How are you planning on involving the Community in your development process?
"Community will become integral to making the best 1.0 version of the game possible. I encourage any bugs found be reported to Support@battlerealms.com as we are forming a database to handle the perfecting of the game. Beyond that, as interest allows we will consider making Battle Packs, Expansions, and potentially even sequels to the game."
— Ed Del Castillo
Community content is available under
CC-BY-SA
unless otherwise noted.